St. John's Fall Craft Fair: Saturday, November 18!

Crowded malls, long lines, and parking during the holidays can be stressful!!! Get a head start (without the stress), and support local this season, at our first EVER St. John's By the Sea Fall Craft Fair. Our date is November 18th, from 9am-3pm, at Ho'okano Hall.
A $1 donation will allow you access to shop with a variety of vendors selling items like:
* Tahitian pearl and shell jewelry
* Organic body powders and natural deodorant
* Hand sewn blankets, pillows, and aprons
* Home made kulolo and poi
* Aloha print baby onesies
* Local plants, succulents, air plants
* Hand sewn baby bibs
* Seasoned salts
* Christmas wreaths
* And more!!
If shopping isn't your jam, stop for lunch! Our church kitchen crew will be selling beef stew bowls with rice, long rice bowls, musubis, and drinks. We'll have plenty of seating, and you can listen to live music from 12-2pm by Shane Tsukayama.
We hope you'll stop by and come check us out! If you're a crafter and want to participate, we still have a few more spaces for vendors. Email us at stjohnsbts@gmail.com for more info.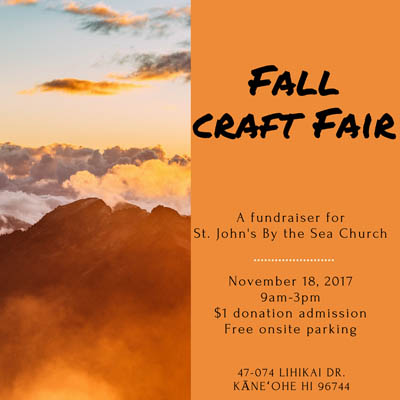 Help Keep St. John's "Cool"!
As many of you know, our aging air conditioning units at the church finally "gave up the ghost," are no longer working after nearly ten years of service, and need to be replaced. The cost to replace them will run just under $10,000. I have started a pledge drive to replace the units and have donated $500 to start the ball rolling, and have asked others if they would accept the challenge. The following members have already taken up the challenge and have matched my donation with individual pledges of $500 each:

Moses and Naomi Kalauokalani - $500
Dave Onerheim - $500
Pasha Leong - $500
Teena Urban (Aiona) - $500

AS YOU CAN SEE, WE ARE ALREADY ONE QUARTER OF THE WAY TO REACHING OUR GOAL!!! Please do not think that you need to donate as big an amount as shown above – anything that you can contributed will be much appreciated. I would like to have the new A/Cs installed before the end of October. Donations can be made via Paypal on this website (see Donate button on the home page), or checks can be sent to: St. John's By the Sea, 47-074 Lihikai Drive, Kaneʻohe, HI 96744. Be sure to indicate in the check memo that it is for the A/C.

BIG MAHALO EVERYONE! MAY THE LIGHT OF CHRIST SHINE UPON ALL OF YOU! +Fr. Nahoa
Ongoing
Refreshments
Many thanks to everyone who has signed up for refreshments for upcoming Sundays. See the schedule posted on the bulletin board in Ho'okano Hall by the kitchen for when you can help, too.
Altar flowers
If you would like to donate flowers for the altar for Christmas or any day in thanksgiving (for birthdays, anniversaries, etc) or in memory of a loved one, please contact Lois.
Canned goods and other nonperishable foods
Please bring your donations. These are collected each Sunday and presented at the altar as part of our offering, then transferred to the needy.
Help needed!
Would you like to serve as an usher one Sunday a month? Ushers not only welcome visitors and show them to their pews; they also help set up and put away the microphones, turn on the air conditioning when needed, distribute materials for the service, and ring the bells. Join the team!
Ministries schedule
The schedule for clergy, worship leaders, eucharistic lay ministers, acolytes, and altar guild for July-December 2017 is now available. Please print and distribute to kupuna who don't access the Internet.
An illustrated list of the altar hangings used for different seasons and purposes is available here.
Worship leaders, eucharistic lay ministers, and acolytes: please arrive by 9:15 am. If you are unable to make it, please arrange for your own substitute.
Sunday's readings
Each Sunday's readings are available online at the Episcopal Lectionary website.

---