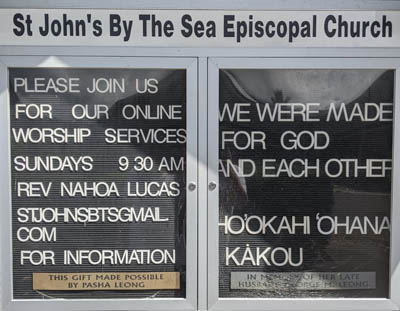 St. John's By-the-Sea Episcopal Church was founded in 1931 to minister to local Hawaiian fishermen and their families. Today our little rural church in Kāne'ohe has reaped a rich spiritual harvest. While still predominantly Hawaiian, our congregation is an increasingly eclectic mix of people who relish the warmth and informality at St. John's. We strive to live out our Christian faith through our love for God, for each other, and for the world around us.
St. John's by-the-Sea Episcopal Church continues to honor its Hawaiian heritage by singing hymns in Hawaiian as well as English, by incorporating Hawaiian values into all the church's activities, and by conducting the Holy Eucharist partly or completely in the Hawaiian language several times a year. Hawaiian Eucharists and Ali'i Sundays honor and commemorate the lives of our ali'i.
August 5, 2020 Notice from the Bishop regarding in-person worship.
HOLY WEEK 2021: Other Episcopal churches in our diocese are offering a slate of services, including for Maundy Thursday and Good Friday. Please see the list on the diocesan website.
PLEASE JOIN US FOR SUNDAY SERVICES ONLINE
St. John's 9:30 am Sunday services are being held via Zoom at the moment. For more information or to make sure you're on the email invitation list, contact Fr. Nahoa at stjohnsbts@gmail.com.
PLEASE CONTINUE SUPPORTING ST. JOHN'S
Even while we are not currently meeting in person, please continue your donations and pledge payments in support of St. John's ongoing operations and community engagement. Checks made out to St. John's By-the-Sea Church can be mailed to 47-074 Lihikai Drive, Kāne'ohe, HI 96744. You can donate online (using PayPal or credit card) by clicking on the "Donate" button in the left-hand column of this page. You can also now donate to St. John's using the Venmo app on your phone ("St. Johnʻs By The Sea Episcopal Church" or "@Paul-Lucas-34"). If you want to donate to a specific fund, you can indicate that in the "memo" area. 
---
Links of Interest
Native Ministry Digital Media Library
Anglican Indigenous Network
Indigenous Theological Training Institute
Renting Ho'okano Hall
Episcopal Diocese of Hawai'i
Episcopal Church
Episcopal Lectionary
Latest Issue Episcopal Diocese of Hawai'i E-news
Hawaiian Church Chronicle



Holy Eucharist
Sundays 9:30 AM
St. John's By-the-Sea
   Episcopal Church
47-074 Lihikai Drive Kāne'ohe, HI 96744 (808) 239-7198
stjohnsbts@gmail.com